It's Monday and I think I should have written a check-in yesterday. Better late than not at all!
The Sealed Pot received a decent feeding this week, but it better not get used to it! Not every week is going to have extra. I worked 6 unscheduled hours filling in for an employee who was unavailable for her scheduled work time, resulting in a paycheck larger than expected. So I split the approximately $60 three ways; $25 went into the Sealed Pot to be opened in December, $25 went into the Summer Sealed Pot I have decided to establish and the remaining $10 covers the government required contributions which are CPP, EI and income tax.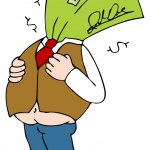 Big Fat Paycheck!!! NOT!!!!
None of my earnings from the store are used for my living expenses. Since retiring from full-time employment and receiving pensions for income I had decided that I would live on the pension income because:
1. I have a determination that I can live a happy satisfied life on this income
2. I will prove the so-called experts wrong and live as a senior citizen without $1,000,000 + to fall back on!
This retail income is gravy and I've mentioned before that I enjoy the workplace. All of the money thus far has been placed into savings in one form or another. I am so inspired by the many frugal, simple living blogs that I read that it is not at all difficult to stay on the path. :) If I
have
to tap into the gravy, I will, but I don't have to.
I enjoyed a lazy day today, spending a good portion of it watching the inauguration of President Obama's second term leading the United States of America. Beyonce wowed the crowd with her singing of the national anthem, Kelly Clarkson sang as did James Taylor. Very impressive ceremony to watch. I admire the patriotism of the citizens, our neighbours to the south.
Then it was off to work for a little while and now home and relaxing time. Tomorrow is looking like a great day! A cold snap has hit and it is bbrrrrrr out there. It's -12 C right now at 11 p.m. and heading down to -15 C. Although that's not bad compared to Winnipeg where it was -45 C with windchill. Yikes! I remember temps like that when I lived there in the late '60's.
This and That From The Cat!!